SIRENEMERMAIDS
SIRENE E' SOSTENUTO DA UNA CAMPAGNA DI SUPPORTO CLICCA PER MAGGIORI INFORMAZIONI
SIRENE RACCONTATO ALLA RADIO SVIZZERA RSI – RETE 2 "Il suono della danza"
SIRENE CITATO IN UNA PUBBLICAZIONE DELLA CAMBRIDGE SCHOLARS PUBBLISHING
IDEAZIONE, PARTITURA RITMICA E COREOGRAFICA, INTERPRETAZIONE
Federica Loredan
DURATA
40 minuti circa
GENERE
Danza sonora – Body drumming, hip hop, danza contemporanea.
COSTUME SONORO
Laboratorio Fulmicotone
DISEGNO LUCI
Francesco Ziello
MUSICA
Davide Mantovani
SINOSSI
Una rete rosso sangue. Mattanza.
Cerco di ricucire i legami, la famiglia.
Tenere insieme i pezzi. Raccogliere i frutti. Un'attività febbrile.
Sputata dal mare come un relitto. Una figura mitologica.
La coda di una sirena, pesante, ricoperta di chiavi come fossero parassiti, crostacei.
Incagliata. Suonano come catene, mi fanno affondare
Eppure sono le mie risorse, ma non so quale sia quella giusta per uscirne,
Un corpo diviso in due, metà in viaggio metà impigliata nell'oblio.
IL PROGETTO: Creazione per corpo, suoni e voce.
Impegnata da tempo in diversi progetti con rifugiati e migranti, e per ragioni personali particolarmente interessata al tema, ho deciso di indagare sulla condizione di chi resta "incagliato", chiuso, perso nel viaggio concretamente o trattenuto dalle sue resistenze, e ne ho portato in scena la voce.
La Sirena è un corpo diviso in due, donna solo a metà, sospeso tra due mondi, mai a casa.
Due volontà diverse, radicarsi e volare, due pesi diversi, due qualità diverse.
Sono io. Sono "gli altri". E' il presente. Sono storie lontane.
Giocando su un'ambiguità costruita tra ricordi, suggestioni, simboli, rituali.
I LINGUAGGI
Lo spettacolo è polisemantico, nei codici espressivi e nei livelli di lettura. Abbraccia per questo un pubblico ampio, ipnotizza i bambini e offre spunti di riflessione agli adulti, ma soprattutto ha un'apertura multiculturale. E'uno spettacolo personale senza essere autoreferenziale, narra di un esodo, allude al mare nostrum che "fiorisce" di corpi, ma racconta più ampiamente di una condizione umana in cui ciascuno di noi può riconoscersi.
Presentato nei festival di Musica quanto di Danza, ha avuto l'onore di essere invitato al IX convegno internazionale Sietar sul tema "L'identità multiculturale".
Arrivata alla mia terza creazione come autrice, la mia poetica si configura come un crossover tra diversi linguaggi che definisco come danza sonora/musica visiva, una forma espressiva in cui il movimento produce suono, una danza percussiva, auto-musicata, che si serve anche di elementi fortemente simbolici ed evocativi. Si intrecciano una danza di impatto e fortemente iconica come l'Hip hop , una tecnica antichissima come il Body percussion, composizioni ritmiche originali e tradizionali, gesti rituali.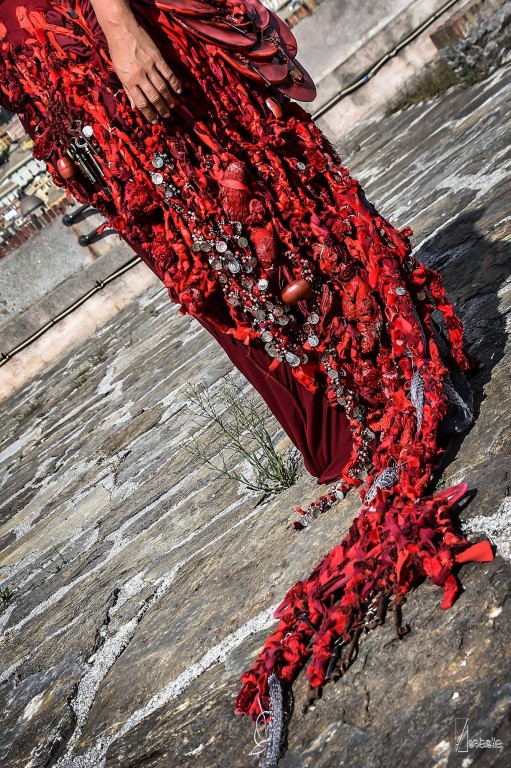 IL COSTUME
Il costume sonoro è co-protagonista, è maschera, è mezzo per creare paesaggi sonori e personaggi.
Rosso come il colore delle radici e della famiglia, rosso come il sangue di cui il nostro mare è ormai intriso. Uno strano corallo, un carapace. Potente e drammatico.
Una immensa gonna-rete da pesca ricoperta di chiavi, monete ed altri oggetti fortemente simbolici che risuona come le maschere tradizionali (v.Mamuthones/Sardegna, Donso/Africa occidentale).
"L' abito (…) diventa feticcio, si fa tramite di storie, attiva cambiamenti, dialoga con chi lo indossa, rivela ciò che non è visibile, consente di trasgredire confini culturali e geografici. Il corpo, così potenziato da indumenti, amuleti e decorazioni, incorpora forze invisibili e e magiche e diventa lui stesso un oggetto potente.
Con il linguaggio della danza contemporanea, che dal rituale all'hip hop riflette la globalizzazione, la performer diventa lei stessa un'identità multiculturale, paragonabile all'oggetto del museo che, accogliendo manualità, saperi e tecniche indigene, diventa potente nel processo del suo farsi e non solo per il suo esito estetico finale."     M.C.De Palma, antropologa e direttrice del Museo delle Culture del Mondo
 "La prima generazione strappa, la seconda dimentica, la terza ricostruisce".
LO SPUNTO:
Tratto da "Bilal – viaggiare, lavorare, morire da clandestini" di F.Gatti
STRANDED in inglese significa arenato, incagliato, lasciato senza mezzi di trasporto, nei guai, in difficoltà (…) All'improvviso, un giorno qualunque e inaspettato, la mente e il corpo si separano. La mente vuole andare. Il corpo resta stranded. E lentamente giorno dopo giorno, la polvere si impossessa della propria vita, incrosta ciglia e sopracciglia, si secca in gola. Ecco i loro volti da vicino. La tragedia è che nessuno dirà mai loro che stanno facendo qualcosa di eroico. Nessuno riconoscerà che il loro è un gesto definitivo che ha eguali soltanto nello sforzo della nascita. Se arriveranno vivi in Europa li chiameranno addirittura disperati. Anche se sono tra i pochi al mondo ad avere ancora il coraggio di giocarsi la vita carichi di speranza.
L'ARTISTA: Federica Loredan – performer/danzatrice/musicista.
Ha studiato presso il Conservatorio di Musica, laureata con lode presso l'Accademia di Belle Arti di Genova e ha studiato Lingua Italiana dei Segni (LIS), ma è soprattutto una danzatrice e coreografa, profonda conoscitrice delle danze afro americane e particolarmente legata alla cultura africana. Lavora in diverse accademie professionali, compagnie teatrali e crew hip hop della scena underground. Tiene regolarmente stages in Italia ed Europa. Ha all'attivo progetti con immigrati, ragazzi a rischio, non udenti, disabili, bambini, formazione docenti. Collabora all'organizzazione di Mama Africa, il più grande festival europeo dedicato alla cultura africana e direttrice artistica di Female Jam, primo evento hip hop femminile italiano. Assistente di Virgilio Sieni per L'Atlante del Gesto 2017. Collabora con l'Università di Genova (Dibris Infomus/Casa Paganini) per diversi progetti di ricerca europei.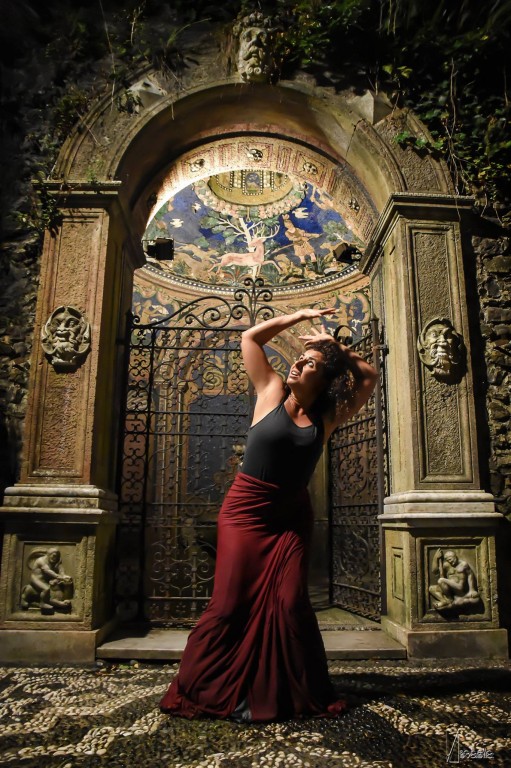 RICONOSCIMENTI:
Presentato come Work in Progress nella splendida cornice del Ninfeo di Villa Borzino (Busalla-Genova) performance per Corpi Effetti
Vincitore del bando di supporto alla creazione dello Spazio Baobab
Vincitore del bando InSincronia
Selezionato per SIETAR 2017 (convegno internazionale sul tema dell'identità multiculturale).
Selezionato per Chouftouhonna – Festival d'arte femminista, Tunisi 2017
VIDEO MAKING OF #1: Il Movimento https://youtu.be/ye8yfYEYbAs
VIDEO MAKING OF #2: Il Suono https://youtu.be/GRPkoPrEgvI
VIDEO MAKING OF #3: La Luce https://youtu.be/RNOAWiJnPjY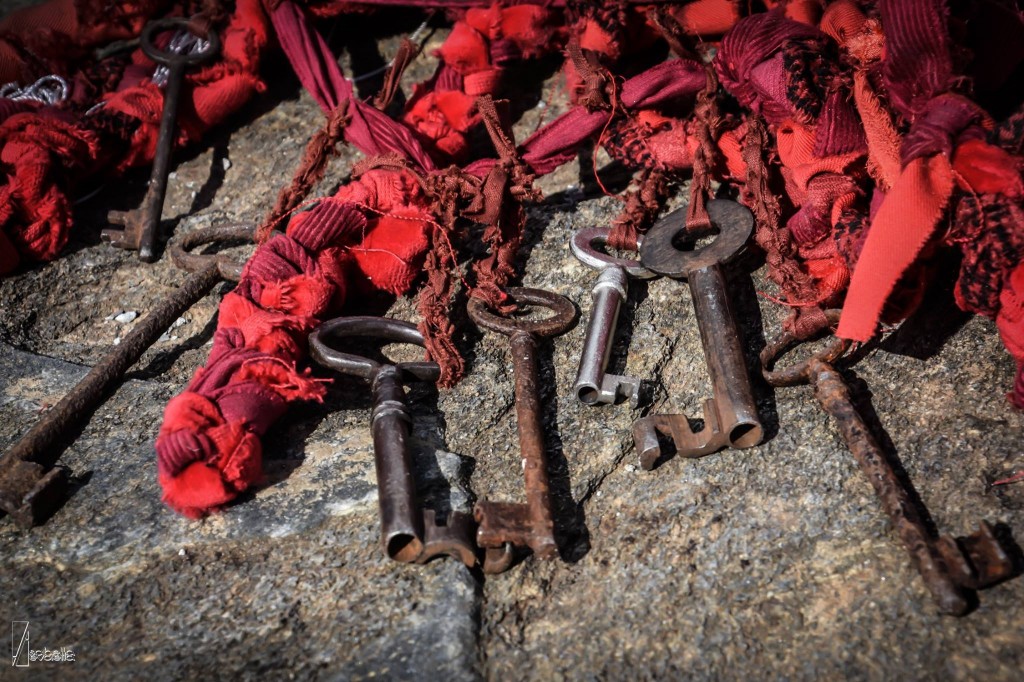 PROSSIME DATE :

18 Febbraio 2017 – Festival InSincronia (Piacenza) "work in progress"

5 Maggio 2017 – IX Convegno Annuale SIETAR Italia "Identità multiculturali: il senso e il valore dell'appartenenza nel mondo globale". Intervento congiunto performance/conferenza con l'antropologa Maria Camilla De Palma (Milano).

13 Maggio 2017 – Serata Baobab (Ivrea) PRIMA NAZIONALE

29 maggio 2017 – adattamento per il Museo delle Culture del Mondo di Genova

12 agosto 2017 – Lugano Eventi – world music festival (Svizzera)

14 aprile 2018 – Festival 1,2,3 Soli, Lione (Francia)

15 aprile 2018 – Teatro bellARTE Tedacà, Torino

21 maggio 2018 – Body Rhythm Hamburg (Germania)

27 giugno 2019 – Museo del Mare, Genova per il Convegno Internazionale "Immigration and Historical Amnesia"

CREDITS:

– Fondazione Devlata per lo spazio e l'accoglienza

– Centro Culturale Mojud per lo spazio di lavoro

– Spazio Baobab per il supporto alla creazione

– Isabella Ievolella e Danila Corgnati per le foto

– Danilo Guidarelli per i video

– Museo Luzzati e Teatro dell'Archivolto per l'ospitalità

SIRENE SUPPORT CAMPAIGN click here for more info

SIRENE AT THE SWISS RADIO RSI – RETE 2 "The sound of dance"

SIRENE MENTIONED IN A PUBBLICATION OF CAMBRIDGE SCHOLARS PUBBLISHING

CONCEPT, RHYTHMICAL COMPOSITION,CHOREOGRAPHY & INTERPRETATION

Federica Loredan

LENGTH


around 40 minutes

STYLES


Percussive dance – Body drumming, hip hop, contemporary dance.

COSTUME


Laboratorio Fulmicotone

LIGHT DESIGN


Francesco Ziello

MUSIC

Davide Mantovani

THE PROJECT: A creation for body, sound and voices

Since I have taken part in many projects involving refugees and migrants, and I'm particularly interested in this topic for personal reasons, I decided to look into the condition of those who are "stranded", trapped, physically lost in their journey or held back by their resistance, and I brought their voice on stage.

The Mermaid is a body divided into two parts, a half-woman creature, suspended between two worlds, someone who never feels at home. Two different wills, to put down roots and to fly, two different weights, two different qualities. It is me. It is "the others". It is the present. Stories from far away.

Playing on an ambiguity built on memories, suggestions, symbols, rituals.

THE LANGUAGES

It's a polysemantic show, in its expressive codes and levels of interpretation. Therefore, it addresses a diverse audience, it hypnotizes children and gives adults something to reflect on – but, above all, it's open to multiculturalism. It's a personal yet not self-referential show, the story of an exodus, it alludes to the Mare Nostrum, which "blossoms" with bodies. In a broad sense, it narrates a human condition every one of us can recognize themselves in.

A show presented at Music as well as Dance festivals, I had the honor to be invited to perform at the 9th international conference held by SIETAR, focused on the subject "Multicultural Identities".

This is my third creation as an author and, by now, my poetics has become a combination of different languages that I define as musical dance/visual music – an expressive form where the movement produces sounds, a percussive dance, creating its own music, that employs also deeply symbolic and evocative elements. A powerful and heavily iconic dance like Hip hop, combines with the ancient technique of Body percussion, original and traditional rhythmic compositions, ritual gestures.

 

"The first generation rips off, the second one forgets, the third one restores" .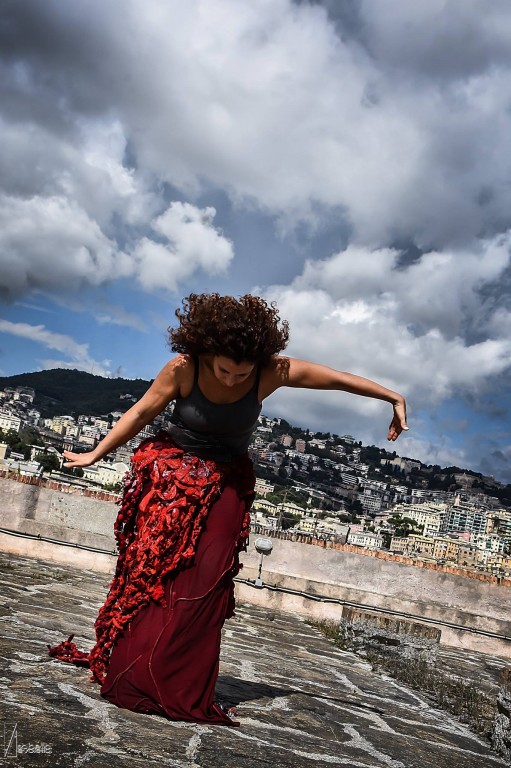 SYNOPSIS:
A net red as blood. Carnage.
I try to put bonds together, the family.
Keep all parts together. Reap the rewards. A feverish activity.
Spit out from the sea like a wreck. A mythological shadow.
A mermaid's tail, heavy, covered with keys like parasites and crustaceans.
Aground. They resonate like chains and make me sink
But they are my resources, and I do not know which one is the right one to walk out,
A split body, half travelling and half stuck in oblivion.
TOPIC:
Extract from "Bilal – To travel, Work and Die as Migrant Worker" by F. Gatti
STRANDED means to be aground, to be left without means of transport, to be left in difficulties. STRAND means river bank, shore. But in this young people's eyes you won't find the relief that any castaway feels when land approaches. You'll find the image of a mind that, even when finally on land, is still reeling among the waves. Their eyes show the most dark of the abysses. The dust on their clothes, on their hair, on their hands tells you that they are sinking more and more deeply (…)
All of a sudden, on an unexpected day, your mind separates from your body. Your mind wants to go. Your body remains stranded. And slowly, day in day out, the dust takes over your life, covers your eyelashes and eyebrows, makes your throat dry. Here, look at their faces, from close. The real tragedy is that no-one will ever tell them they are heroes. No one will recognize that such an ultimate action is comparable only to the effort of giving birth. If they will arrive alive in Europe, they will be called "desperate". Even though they are the only few people remaining in the world who are still brave enough to play with their lives full of hope.
THE COSTUME
The musical costume is a co-protagonist, it's a mask, it's the tool through which characters and musical landscapes can come to life.
Red, like the color of roots and family, red like the blood our sea is now soaked with. A strange coral, a carapace. Powerful and dramatic.
A massive fishnet-skirt covered with keys, coins and other deeply symbolic objects that sound like traditional masks (see Mamuthones/Sardinia, Donso/Western Africa).
"Clothes (…) become a fetish, a channel to convey stories, they set changes in motion, they talk to the people who wear them, they reveal what's not visible, they enable you to break cultural and geographical boundaries. The body, empowered by clothes, charms and decorations, embodies invisible and magical forces, becoming a powerful object itself.
Thanks to the language of contemporary dance, which reflects globalizations from rituals to hip hop the performer becomes a multicultural identity herself. She can be compared to a museum object – it holds manual skills, knowledge and indigenous techniques, it becomes powerful in the process of coming into being and not only for the ultimate aesthetic result." M.C.De Palma, anthropologist and director of Museo delle Culture del Mondo (Museum of World Cultures)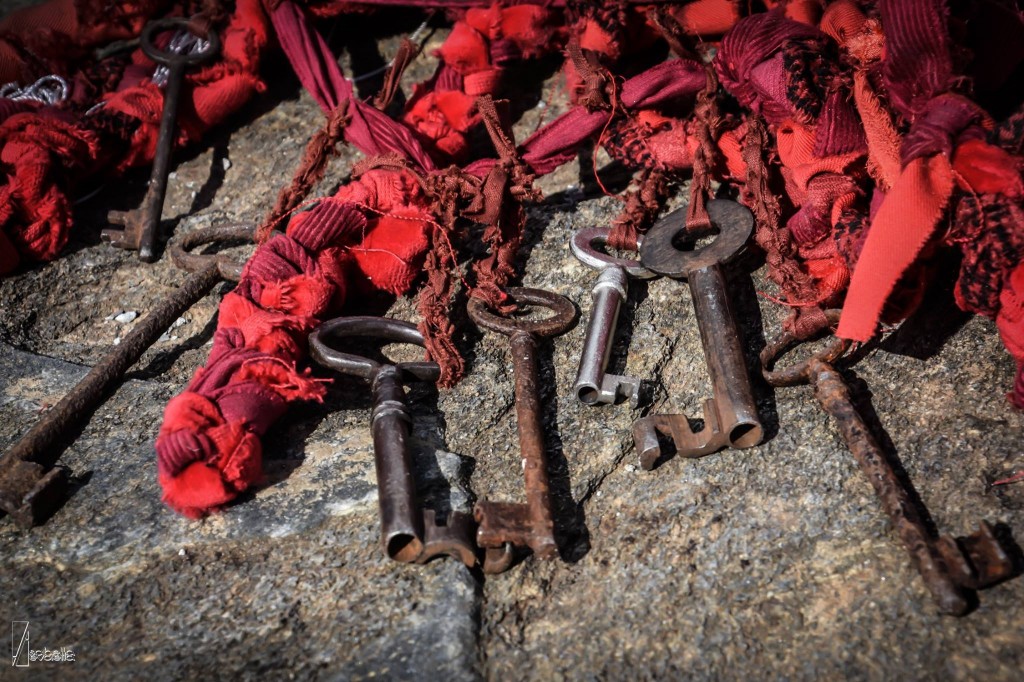 Presented as Work in Progress on the wonderful site of Ninfeo – Villa Borzino (Busalla – Genova) performing for Corpi Effetti
Winner of the prize "Spazio Baobab – creation support" (rehearsal spaces/funds/première)
Winner of the selection InSincronia
Selected for SIETAR 2017 (international meeting about multicultural identity)
Selected for Chouftouhonna Festival d'Art Feministe de Tunis (Tunisia) 2017
NEXT DATES:
18 February 2017 Festival InSincronia, Piacenza (Italy) "work in progress"
5 May 2017 IX Meeting SIETAR "Multicultural Identity: the meaning and the value to belong to the global world" (Milano, Italy)
13 may 2017 Baobab Night, Ivrea (Italy) Première
28 may 2017 – Museum of the World Culture, Genova (Italy)
12 augoust 2017 – Lugano Eventi (Switzerland)

14 april 2018 – Festival 1,2,3 Soli, Lyon (France)
15 april 2018 – Teatro bellARTE Tedacà, Turin
21 may 2018 – Body Rhythm Hamburg (Germany)
27 june 2019 – MuMa / Sea Museum, Genova during the International Conference "Immigration and Historical Amnesia"
WATCH THE VIDEO MAKING OF 1°PART
CREDITS
– Fondazione Devlata for their spaces, their hospitality and their heart
– Centro culturale Mojud for their spaces
– Spazio Baobab for the creation support
– Isabella Ievolella e Danila Corgnati photos
– Danilo Guidarelli videos
– Museo Luzzati e Teatro dell'Archivolto for their spaces