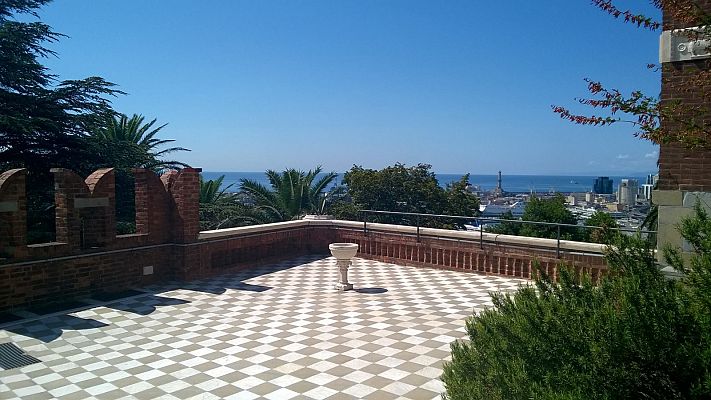 CASTELLO D'ALBERTIS, 2 ANNI DOPO
20 Agosto 2015
Sono già passati due anni dall'estate in cui il Castello d'Albertis, Museo delle Culture del Mondo, è stato abitato dalla compagnia Kibaro per la realizzazione dei due spettacoli che hanno fatto rivivere , nei suoi spazi magici ,personaggi come Enrico D'Albertis, Lady Brooke, la moglie abbandonata, il maggiordomo e suggestioni di viaggi lontani, vele, profumi, la cerimonia del té, note musicali di paesi esotici, rituali, "Echi e visioni".
(Nella foto in basso Chiara Martinoli, Federica Loredan, Adriano Lucania, Daouda Diabate, Demian Hackman)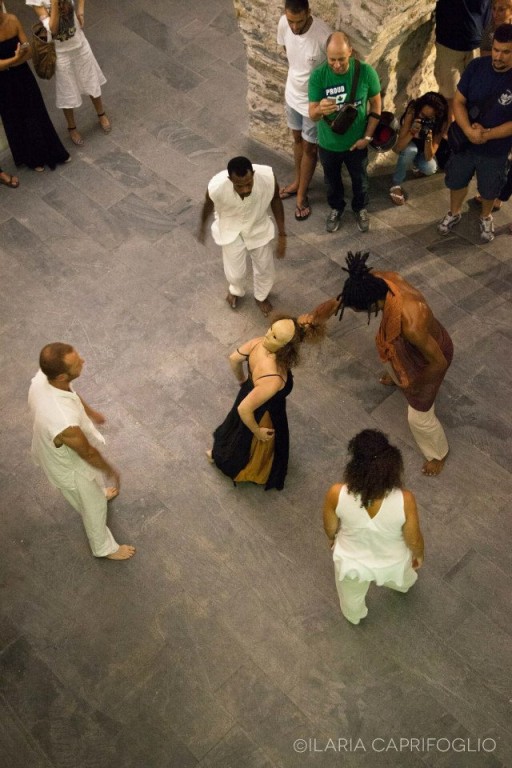 In questi due anni, il mio lavoro è andato avanti, e quello che era nato per caso come un semplice gioco con l'acqua è diventato una ricerca importante e un Solo che ha calcato palchi internazionali (Spagna, Svizzera, Germania, Austria) e che sento chiedermi ora un più ampio respiro. Motivo per cui sono tornata qui, calorosamente accolta dallo staff e dalla direttrice del Castello , la dott.ssa M.C.De Palma, che mi hanno permesso di abitare nuovamente questi spazi per una nuova fase creativa.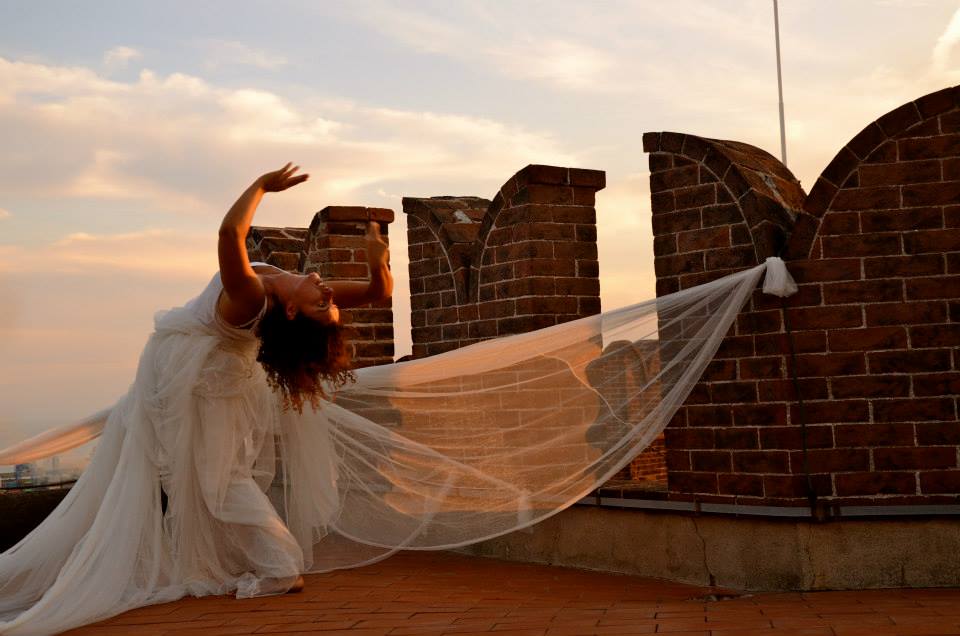 Il 20 settembre alle ore 18 si terrà una restituzione pubblica di questa fase di lavoro con un contributo simbolico per il Castello di 3 euro, che consentirà comunque la visita completa a tutti gli spazi oltre che la visione del Solo. I posti sono limitati e la prenotazione obbligatoria all'indirizzo castellodalbertis@solidaretaelavoro.it .
Un dialogo tra un corpo e l'acqua.
Gesti quotidiani, gesti sacri.
La scoperta, un rituale.
Specchio, finestra su un'altra dimensione.
Ricordi ancestrali che affiorano per spiegare il presente e tracciare il percorso.
Felice di poter condividere questo viaggio con voi e aperta ai vostri feedback, per poter far crescere il mio lavoro in vista dei prossimi importanti Festival, vi aspetto.
LO SPETTACOLO è STATO INSERITO NEL QUADRO DELLE GIORNATE EUROPEE PER IL PATRIMONIO CULTURALE 2015.
PER MAGGIORI INFORMAZIONI VISITATE IL SITO DEL MINISTERO DEI BENI CUTURALI
http://www.beniculturali.it/mibac/export/MiBAC/sito-MiBAC/Contenuti/MibacUnif/Eventi/visualizza_asset.html_602102690.htmlIt's already been two years since the summer when the Castello d'Albertis, Museum of World Cultures, was inhabited by the company Kibaro for the realization of the two shows which revived in his magical spaces, people like Enrico D'Albertis Lady Brooke, the abandoned wife, the butler and suggestions of journeys away, sails, perfumes, the tea ceremony, musical notes of exotic countries, rituals, "Echoes and visions."
(On the picture Chiara Martinoli, Federica Loredan, Adriano Lucania, Daouda Diabate, Demian Hackman)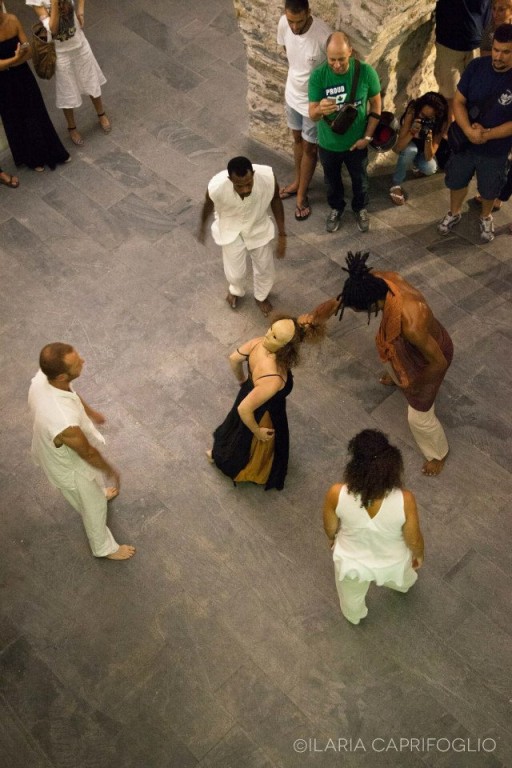 In these two years, my work has been going on, and what began as a simple game with the water has become a major research and performed on international stages (Spain, Switzerland, Germany, Austria) and I feel now the need to go deeper on it. This is Why I came here again, warmly welcomed by the staff and the director of the Castle, Dr. M.C.DE Palma, who have allowed me to live again these spaces for a new creative phase.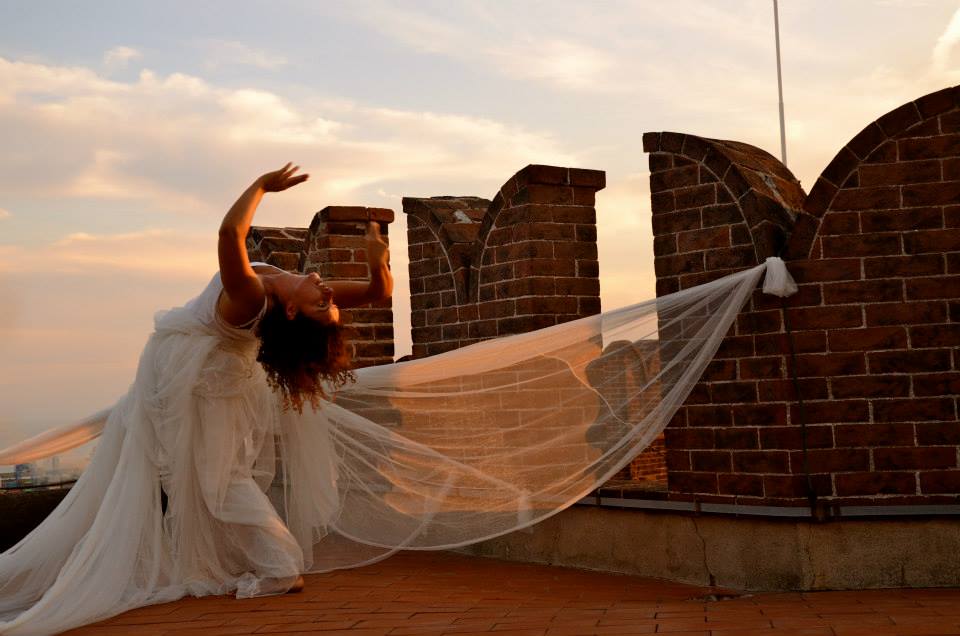 On September 20 at 18h i will hold a public return of this phase of work with a symbolic contribution to the Castle of 3 euro, which will still allow a complete visit to all spaces as well as the vision of Solo. Space is limited and reservations required at castellodalbertis@solidaretaelavoro.it.
A dialogue between a body and the water.
Daily gestures, sacred gestures.
The discovery, a ritual.
Mirror, window on another dimension.
Ancestral memories that appear to explain the present and trace the path.
Happy to share this journey with you and open to your feedback, in order to grow my work for the forthcoming important festival, will look.