1,2,3 SOLI – LYON (FRANCE)
25 Gennaio 2016
Nel Giugno 2015 grazie al Concorso SOLO COREOGRAFICO sono stata invitata dal presidente di giuria Michel Hallet Egayan, cofondatore de La Maison de la Danse di Lyon e dell'omonima compagnia, ad uno scambio artistico in occasione di un Festival da lui organizzato presso il Teatro Aux Echappées Belles.
Questo momento finalmente è arrivato. Passerò una settimana vivendo e lavorando con la compagnia, prendendo classi e dandone a mia volta, lavorando al perfezionamento del mio Solo monitorata dall'esperienza di Michel Hallet Egahyan e dalla sua équipe tecnica, andando in scena venerdì 5 febbraio di fianco agli artisti di altre due importanti compagnie.
SOLO SOL EAU – FEDERICA LOREDAN
LES NIOBIDES – GUILLAUME BARRE /Collectif Antigoute (Paris)
PRELUDE DE L'ANASTASIS – BRUNO MIACHON/ Cie Hallet Eghayan (Lyon)
Per prenotazioni e informazioni contact@ciehalleteghayan.org o 0478648498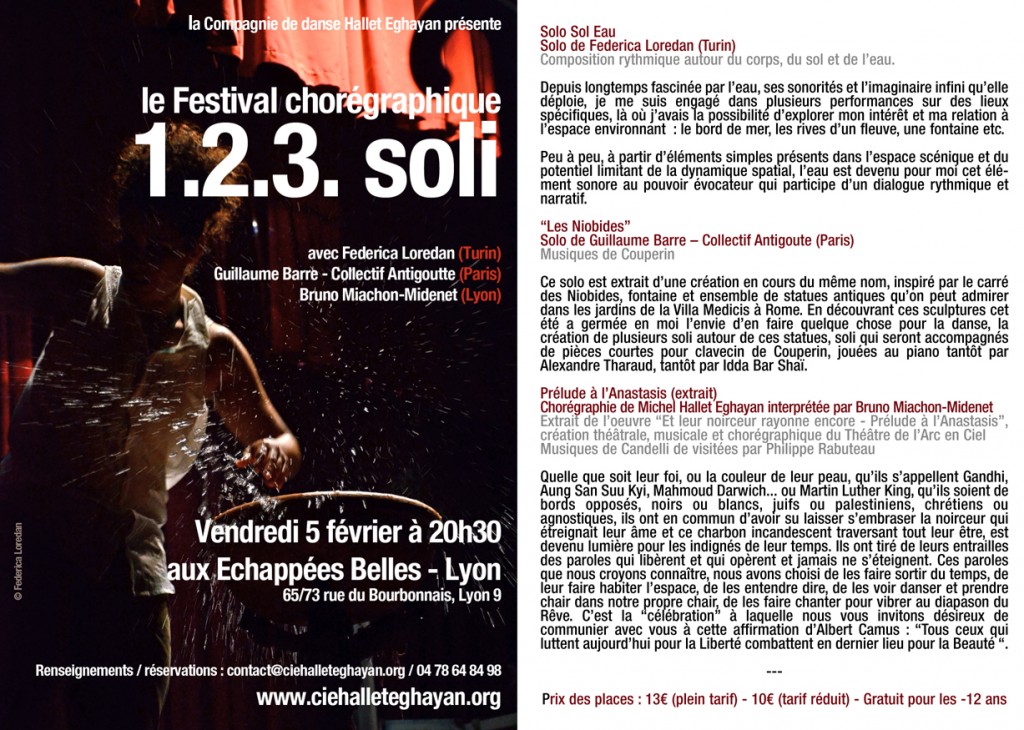 On June 2015 thanks to the Choreographic Contest SOLO COREOGRAFICO i'm invited by the president of the jury Michel Hallet Egayan, cofounder of La Maison de la Danse de Lyon and founder of his company , to join his company for an artistic exchange, during a Festival organised by himself c/o the Theatre Aux Echappées Belles.
This moment finally arrived. I'm gonna spend a week living and working with the company, takin classes and givin classes to him dancers, working on my pièce mentored by the experience of Michel Hallet Eghayan and his technical crew, performing on Friday 5 February, beside artists of two important companies.
SOLO SOL EAU – FEDERICA LOREDAN
LES NIOBIDES – GUILLAUME BARRE /Collectif Antigoute (Paris)
PRELUDE DE L'ANASTASIS – BRUNO MIACHON/ Cie Hallet Eghayan (Lyon)
For reservations and infos contact@ciehalleteghayan.org or 0478648498