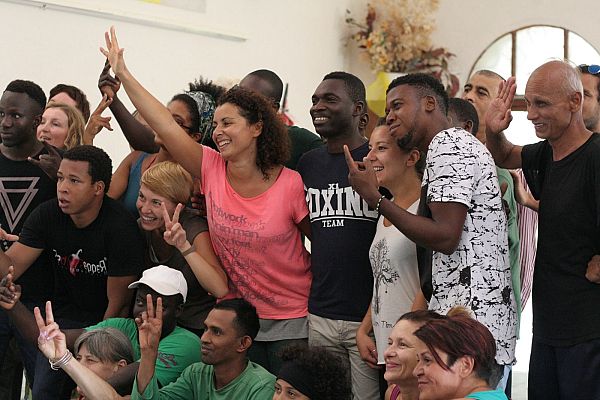 Multicultural Workshops
27 September 2016
That's how I call them: MULTICULTURAL WORKSHOPS because when I see these lifeless, shut-down, shy bodies, the most powerful weapon I have, besides my smile, is Hip Hop.
Not a dance, not a music genre, but rather an artistic and social expression that historically originates from distress, among marginalized groups, with a strong desire for redemption – powerful, immediate, relevant, constantly transforming and developing, somehow promising a new status.
"Albert Murray calls the African American public dance a rytual of purification, affirmation, and celebration. It helps drive the blues away and provides to rich opportunities to symbolically challenge societal hierarchies by offering powers and freedom that are impossible in ordinary life. AT A DANCE, ANYONE WITH THE RIGHT MOVES MAY BECOME KING OR QUEEN OF THE FLOOR" Steppin'on the blues – J.Malone
They are MULTICULTURAL WORKSHOPS because I find myself starting a sentence in French, continuing in English, adding a couple of words in Djoulà, Wolof, Bambara…we count the steps together in Italian, when we're sweating they teach me how to say "hot" in Kurdo… I describe a particular rhythm through body percussion and their eyes brighten up when they tell me about Attan, a traditional Afghan dance in which they clap their hands…
I teach
I learn
Simply, we share. Getting to know  people. Smiles. New energies flow around. And a bit of hope, too.
Sure,  I can't help them get their VISA's. I can't teach them a trade.
But sometimes the staff confessed that some of them had never even smiled since the day of their arrival and that seeing them dancing and having fun looked like some kind of miracle. I can give them back their will to fight, to hope, to build something, because dance and music are an extremely powerful weapon.
"We shouldn't refer to them as clandestini (illegal immigrants): it's misleading, deceitful, we should reintroduce our good old word migranti (migrants). Because poverty is not the main and only reason behind their being on the move (…) There's something else pushing them, a power that has always pushed young ones to move, to change, to dream – they are only looking for a new life, they want to dream and try" Esodo – D.Quirico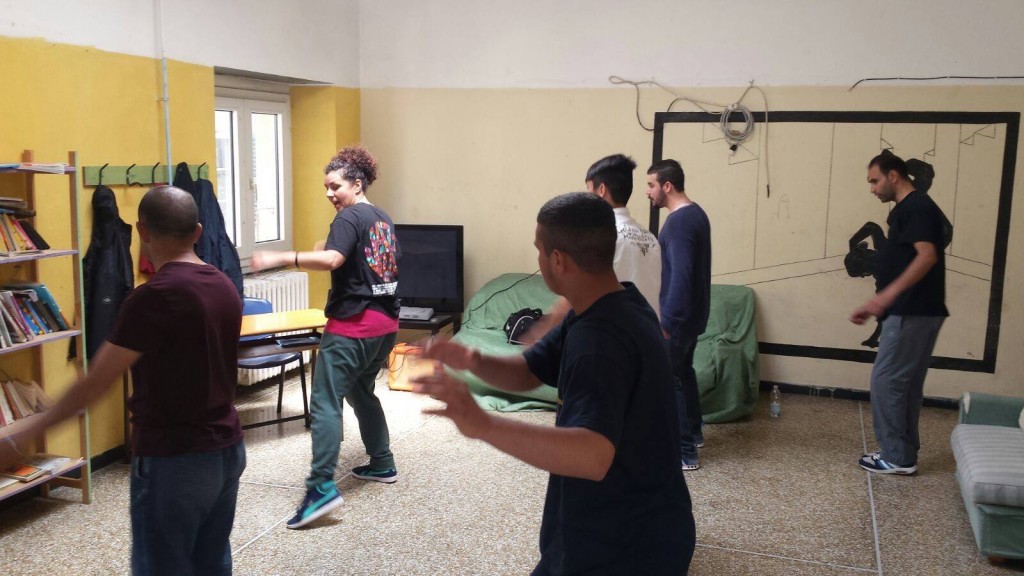 They are MULTICULTURAL WORKSHOPS because every class is a trip around the world: Ghana, Gambia, Mali, Guinea, Bangladesh, Pakistan, Afghanistan, Nigeria…but also Italy, France, the Netherlands, Germany because they're really open to everyone, no matter their nationality or their age! Someone has arrived here recently putting everything on the line, someone has lived here for 30 years and still feels like a "foreigner", someone never really left and someone keeps living elsewhere in their own mind.
"Citizens of a world in decline, wealth is the only thing we are anxious about, just like old peoples, collapsing civilizations. And we do not even realize that in our lukewarm cities, where we cultivate our artificial loneliness, there are already hives that buzz with noise and color, with plea and rage. The world of tomorrow." Esodo – D. Quirico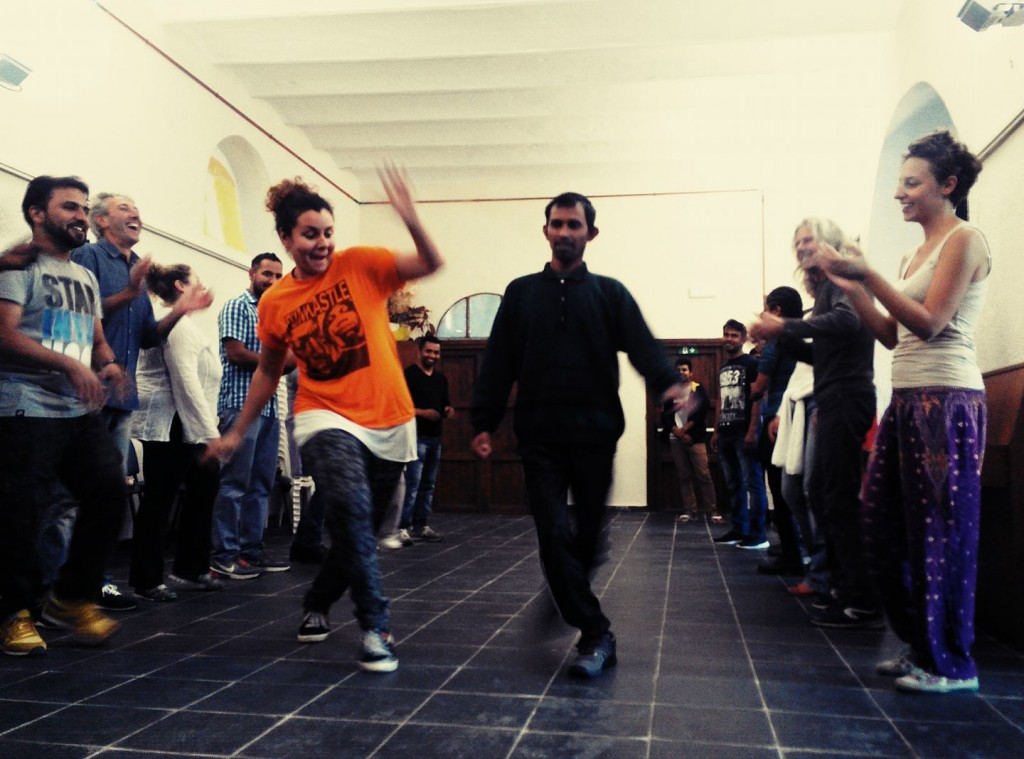 During Hip Hop Jams, people usually end up doing Soul Train. A moment of celebration and aggregation with reference to a historic 60s-70s TV show that started many singers on their career (singers who would later make the history of Soul, Funk, Hip Hop, like James Brown, The Temptations, Kool & the Gang etc.) and that gave non-professional dancers the chance to have their 15 minutes of fame. A successful broadcast in a fertile period, when a milestone of social dance history was set.
I suggest we do a Soul Train also during these workshops. But when I explain to them where it comes from and why, I realize that their literal translation makes much more sense – it actually is a Treno di Anime (Train of Souls). They are here in transit, a journey that hasn't come to an end yet. Pending fates. They set foot in a safe country, without war, but until the moment when they finally obtain a piece of paper they are hanging, enduring a nerve-racking wait, often with nothing to do, except waiting. I tell them that they have to find a way to dance down that aisle experimenting, doing their more personal and stylish move, to make the rest of the group want to imitate them, to be remembered, to inspire people and be an example for them. They brighten up, they know this practice very well, they have already done this throughout all of the journeys that, one stage after another, brought them here.
From now on, Soul Train has a whole new meaning to me. Beautiful and moving.
"The wait is the very essence of the illegal immigrants, their life spirit (…) The illegal immigrant is someone who waits. Not someone who is afraid, who prays, who dreams, who maybe lets anger build up inside them. They wait until they have reached the amount of money they need to pay for their journey, they wait for the mediator who will plan it, for the smuggler who offers the right price. They also wait for the ship that, hopefully, won't sink, for the calm sea, for the moment when the human cargo is large enough for the journey to be profitable, for the captain who is known for being a master of tides and winds, the moment when policemen are less attentive than usual. They wait. One day, one week, one month. Their conception of present is complex, it is pulled back by their past and it reaches out towards the future. The wait is their second skin, they wear it, they wrap themselves in it, they use it to protect themselves. They are left hanging in a time where the hands of the old clock stopped permanently, they don't matter anymore, but the new ones are still out of power, motionless. Waiting, without thinking, without predicting how it is going to work out, keeping their hopes down. – Esodo