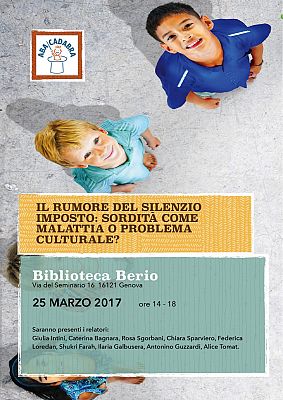 THE NOISE OF SILENCE – THE RHYTHM BEFORE
9 March 2017
I would define Rhythm Before as a sensorial dance project. The cultural association Piedi in Movimento set it in motion in 2013 – hearing and hard of hearing people, dancers and nondancers took part almost equally. This activity was the subject of a documentary presented at the Bologna Film Festival, where the group performed live. Live performances were also hosted by Suq (a multicultural festival) and Museo delle culture del mondo in Genoa.
Rhythm has always been part and parcel of my life.
I learned to play piano at the conservatory, I learned to play percussion instruments, I studied tap dance, body percussion, afro dance, hip hop and during my shows I make music with unusual materials, such as water, wood, keys, bottle caps and plastic bags. To me, rhythm is in everything and in everyone.
The RB experience gave me the chance to broaden my perspective and urged me to change my way of teaching radically.
When we started, I thought I had to teach dance through Italian Sign Language – I'm a dancer and a musician but in 2006 I earned a Level 3 certificate in Italian Sign Language, now I'm quite rusty, though. My way of thinking was the same I had in a normal class, I thought I had to face the codes of a specific style, to impart a technique. However, the group's necessities took me somewhere else. I took steps from everywhere, jumping from one style to another, from one trend to another, always choosing particularly iconic steps, characterized by a certain gesturality, steps that could tell something about the time and the social context they originated in.
I felt I had to make the most of what that heterogeneous group had to offer and, much like in a poem, the signs filled the space and turned into fantastic shapes, ultimately becoming Dance. We created our own code. A choreography that told something about us, about what that experience meant to us: growth, integration, fun, our names, who we are and how the rest of the group views us.
I feel honored when, years later, I am asked to talk about this experience during a lecture about deafness and silence.
The people who watch my performances today tell me that I draw in the air, that my hands have a lot to convey. I don't use Italian Sign Language but this creative process became part of me and part of my poetics. I take this experience with me. And I am thankful for that.